Automatic
Rolling Shutter
Available in various sizes and grades, these products are extensively sought after in the large industry. YSR Security System is a leader in offering wide range of Automatic Rolling Shutter at the most pocket-friendly rates, thus meeting the client's requirements in style.


Commercial
Automatic Rolling Shutter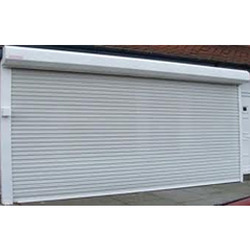 There is no comparison to the manufactured Commercial Automatic Rolling Shutter of YSR Security System. Since we trade and produce the highest quality automatic roller shutter according to the needs of our clients, our patrons are assured of obtaining optimum quality products at the most affordable rates.

Specifications :
Thickness: 0.28mm for 45mm slat, 0.3mm for 55mm slat
Height: 3.8 meters
Weight/m: 0.115 kg
Industrial
Folding Doors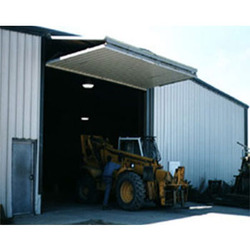 We make and trade Industrial Folding Doors, which are known for their excellent value and quality. Industrial Folding Doors by us are opposed to corrosion, thus becoming preferred products in the market. Great finishing and high durability make them the number one choice among our patrons.


Specifications :
Tensile strength(wrap/weft): 5700/5100N/5m
Tearing strength(wrap/weft): 900/800N
Use temperature: -30°C- +70°C
Automatic
Rolling Shutter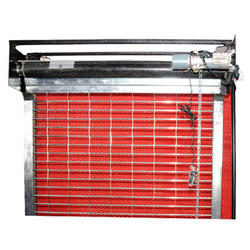 Our expertise lies in manufacturing high quality and the best Automatic Rolling Shutters. Credit goes to our diligent team of experts who make easy to maintain and use Automatic Rolling Shutter using high quality alloys and metals, hence excellent quality is guaranteed.


Specifications :
Open/closed Speed: 0.6-1.5 m/s
Thickness of the curtain: 0.8-1.0 mm
Thickness of the visual window: 1.5 mm
Shutter Size: 6 m(W)X 15 m(H)
Automatic
Perforated Shutter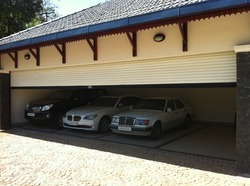 At YSR Security System, our clients will avail Italian type Galvalume perforated automated shutters incorporated with highly developed Heavy Duty Industrial type side drive Automation System. These products provide practical closures to all types of opening (small and large) for display and shop-front areas.

We are providing One number Galvalume perforated Italian type Automated shutter, with advanced Heavy Duty Industrial type SIDE DRIVE Automation System.Cost of One no :Automated shutter with 1.30 mm x 100 mm X 20 mm Galvalume perforated, specially designed MEGA STRENGTH (specially for wider span) Italian type shutter screens, reinforced bottom lock plate, 200 mm deep special Side Guides ,specially designed pipe shaft assembly, with Extra HeavyDuty Side Drive Automation systems including motor units with inbuilt reduction gears, control panel,remote control switch (optional), operating switch, provision for simple emergency manual over ridein case of power failure and all quality accessories are included out of hood.